Media
Press Photos for Jackie:
Click on photos for larger versions, then right click to save image.
Jacqueline Salit
Jacqueline Salit
Independents Rising
book cover
Jacqueline Online
IndependentVoting.org – President
Huffington Post – a regular contributor
The Neo-Independent – Publisher
YouTube Videos – IndependentVoting.org Channel
Media Coverage of Jackie Salit
New York Times, "Can the States Save American Democracy?" (8/20/16)
Arizona Republic, Proposals Seek to Upend Arizona Election System" (1/21/16)
KSHB, "The 43%: Americans move away from Democratic, Republican parties, instead identifying as Independent" (1/14/16)
Arizona Horizon,  "Nonpartisan Voting" (6/9/2015)
The Post, "Are Voting Rights for All?  Let's Ask Hillary" (7/20/15)
The Gazette, "Give Independent Voters an Equal Say" (7/18/15)
Waco Tribune Herald, "Hillary Clinton Hardly a Champion of Voting Rights" (7/17/15)
Arizona Republic, Are Voting Rights for All Voters? Let's Ask Hillary (6/27/15)
IVN,  Independent-Minded Leaders Focus on Fixing American Politics (3/30/15)
CSPAN, Coverage of the 2015 National Conference of Independents -Partnerships for Independent Power (3/14/15)
Part I – Overview of the independent political movement by Jackie Salit
Part II – Can Democracy Transform Social Crisis?
Part III – Can we Make Political Reform Popular with the American People?
Politico
, "Inside Conservatives' Fight to Close GOP Primaries" (2/9/15)
USA Today
, "Independent campaign Roils Kansas Race" (10/16/14)
The Oregonian, "Oregon Open Primary Measure Important Part of National Movement" (8/16/14)
Arizona Capital Times, "As More Independents Vote in Primaries, GOP Eyes Closing Them" (8/4/14)
Huffington Post, "A Multiple Independent Discovery", co-authored with Steve Peace. (3/5/14) 
KJZZ 91.5 fm,  "Here and Now with Steve Goldstein"  (2/5/14)
WZON 620 am, "The Pulse with Don Cookson" , Bangor, ME  (9/30/13)
Wisconsin Public Radio, "The Kathleen Dunn Show" (9/11/13)
The Daily Beast, "Obama Electoral Commission Omission: Our Voting System needs Real Reform" (9/29/13)
Associated Press, "Independent Voter Group Challenges Democrats' Closed Primary Suit" (7/10/13)
New York Times, "One Candidate, 2-3 Ballot Lines: A Bid to Alter Practice Stirs Debate" (4/19/13)
CSPAN, "Jackie Salit on Independent Voters" (2/25/13)
WNYC, "Carrion Endorsement Sets up Possible 3-Way Race" (2/20/13)
New York Times, "From the Bronx, Planning a Long-Shot Run for Mayor" (2/18/13)
Wall Street Journal, "Carrion Contends for Independence" (1/3/13)
TED x New England, Reimagining America (10/24/12)
PBS Arizona Horizon, VOTE 2012 – Independent Voters (10/16/12)
Random Musings, Two Pro Prop 121 Events this Week (10/15/12)
Saratoga Wire, Author on Independent Politics coming to Saratoga (10/2/12)
Arizona Republic, "Who are the Independents?" (9/28/12)
Arizona Republic
, "Arizona Independents face long odds in getting on the ballot" (9/27/12)
IVN, "Livingroom Conversations and Changing the Political Culture" (9/25/12)
University City Review, "Third Parties and Their Struggle" (9/12/12)
Arizona Republic, "Independent Voters are a Growing Part of Arizona's Electorate" (8/28/12)
The Jim Bohannon Radio Show – Select August 15th, advance to 43:00 minutes into the program (8/15/12)
Culture Shocks w/ Barry Lynn  (8/20/12)
Tropical Currents w/ Joseph Cooper (8/20/12)
Fox & Friends (8/10/12)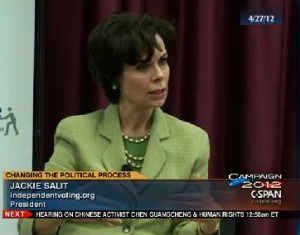 Politics for the People w/ Cathy Stewart and former Congressman Mickey Edwards, C-SPAN (4/27/12)
Amsterdam News, Castillo's Sally and Tom is excellent theater. (2/29/12 – 4/4/12)
EURweb – People of Note, Sally and Tom at Castillo Theater (2/28/12)
Theatermania – Ava Jennings, Adam Kemmerer to Star in Castillo's Sally and Tom (The American Way) (2/15/12)
Capital Live, Independence – Live: Jackie Salit Plays James Madison in Fred Newman Play, (2/13/12)
The Swing Vote: The Untapped Power of Independents by Linda Killian (St. Martins), (1/17/12)
Sonoran News – Independents named to Arizona Elections Procedures Review Committee, (6/1/11)
CNN online, 10 things Republicans must do in 10 weeks, (8/24/10)
ABC News, Independents Rule New Hampshire (6/4/2007)
CNN Online – Wedge issues divide politicians from independents – CNN.com (8/20/10)
NY Post – Mike Mystery Money Went to Key Elex Aide, (1/30/10)
U.S. News and World Report – Fear Strikes the Take Back America Conference: Will Bloomberg do a Nader to Democratic hopes for 2008? (6/24/07)
CNN American Morning (online) – Americans overcome divisiveness, (11/11/09)
Kansas City Star – "" Both parties feel independents' wrath , (11/7/09)
New York Daily News – It's one last round of Sunday stumping for Mayor Bloomberg, Thompson, (11/2/09)
AM New York – Bloomberg picks up IP support, April 7, 2009
New York Times – Bloomberg Is Endorsed by Independence Party, April 6, 2009
NY Observer, Bloomberg not 'Chasing Windmills Again' for Nonpartisan Elections
Reuters, NY Mayor Bloomberg to get minor party's backing, (4/3/09)
New York Times, Independence Party Appears Ready to Endorse Bloomberg, (3/27/09)
New York Times, Mayor's Campaign to Woo Independence Party is Close to Paying Off, (3/27/09)
Ballot Access News, Mayor Bloomberg Settles Differences with N.Y. City Independence Party, (3/27/09)
Wilkes Barre Times Leader, Neither here nor there, (11/15/09)
New York Times, In Reversal, Mayor Now Woos Political Parties, (2/19/09)
Kansas City Star, Both parties feel independents' wrath, (11/08/09)
New York Times, Bloomberg Could Be Independent or Independence Candidate, (10/3/08)
Declaring Independence: The Beginning of the End of the Two-Party System by Doug Schoen (Random House) (2/5/2008)
Boston Globe, Odds bleak for third-party candidates, (6/21/07)
‎The Daily News, Mayor Hires Indys To Hunt Volunteers – New York Daily News, (1/5/05)
NY Daily News, Fulani's Party To Tab Mike – New York Daily News, (5/27/05)
NY Post,  Mike & Freddy Hit the Town, (11/6/05)
Newsday, Party's Declaration of Independents (11/5/05)
New York Times, Independence Party Gives Bloomberg It's Support, (5/29/05)
Star Tribune, Fledgling Patriot Party is out looking for a leader, (5/20/95)
New York Times, Bloomberg Criticizes Parties in Bid for Independence Line, (5/29/05)
New York Times, Mayoral Ally Stands by Her Remarks About Israel, (4/15/05)
New York Times, Democrats Attack Bloomberg Over His Ties to the Independence, (6/4/05)
New York Times, Mayor Denounces Ally's Remark on Israel, (4/16/05)
‎New York Times, Crown Hts. Racial Troubles on Stage, (12/10/98)
Joplin Globe, Election experience turns into bills, (2/19/07)
NY Post, Fulani eyes mayor run, (8/9/07)
The Union Leader, Independent voters discuss changes to political process, (10/16/07)
Crain's New York Business , Government Alert: Workers' comp rate hike recommended, (5/23/05)
NY Sun, AcceptingIndependence Party Endorsement Harder Than Getting It, (5/11/05)
NY Sun, Mayor Is 'Proud' To Stand With Fulani, (12/3/04)
NY Sun, Mayor AcceptsIndependence Party Award But Maintains Distance, (12/5/04)
Daily Gazette, Perot Supporters, Blacks Could Form Basis For National Third Party, (10/16/94)
Knight Ridder Tribune, Ralph Nader Should be Included in the Debates (9/25/04)
The Washington Times,  Political magazine courting independents by Steve Miller  (5/30/04)
 Los Angeles Times, Independents day is here for new magazine owner by David Shaw (5/23/04)
New York Times Metro Briefing, New Magazine for Independents  (7/21/04)
Folio First Day,  An Indie Mag for Indie Voters (3/17/04)
Empire Page, The New Nader, (5/20/04)
The Arizona Republic, Dems Must reach out to Independent Voters, (10/9/03)
New York Times, Party Assigns Itself Blame Over Inaction On Charter, (8/31/02)
New York Times, Political Party of Outsiders has Come in from the Cold, (8/27/02)
New York Times, With No Party to Call His Own, Golisano Bids for Ballot Spot,(7/29/02)
NY Post, Extremist Pol's Shadow World, (6/22/02)
NY Post, Mike Shows Independence in backing Senate Candidate, (2/9/02)
USA Today, Ventura's exit seen as blow to minor parties (6/20/02)
Stateline.org, Green's California Assembly Victory: Anomaly or Start Of Trend? (4/16/99)
NY Post, Mike raps 'backer' Fulani's message, (9/20/01)
‎Daily Gazette, Pataki, (10/16/94)
Boston Globe, Fringe candidates put frustration on the ballot Choices… (10/31/92)
Salon, Not standing Pat – Republican Party, (10/25/99)
New York Times, Crown Hts Racial Troubles Onstage, (12/10/98)
Buffalo News, Parties in State are in Disarray, (12/27/94)
Los Angeles Times, It's Raphael's Patriotic Duty to Tell, (6/20/92)
Los Angeles Times, Fringe Party Wins Funds, If Not Voters Politics: New…, (2/23/92)
The Dallas Morning News, Ragsdale Considers Vice Presidential Slot, (8/5/88)